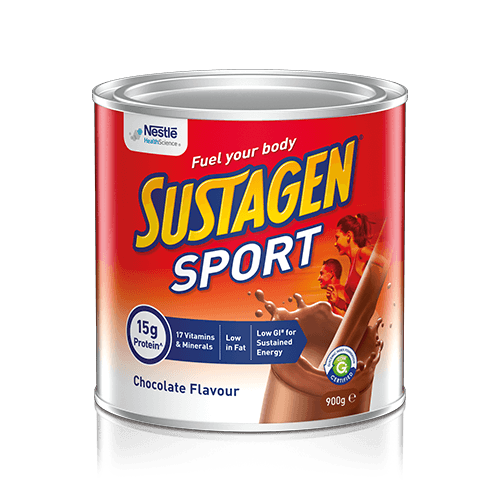 SUSTAGEN® Sport is delicious, low fat, nutritious powdered supplement suitable for all types of sports people to drink before or after training sessions to assist performance and recovery. SUSTAGEN® Sport is high in protein and provides 1.0 kcal/mL per suggested serve.
Gluten free
Low GI
High in protein
18 vitamins and minerals
Low in fat
SUSTAGEN® Sport is a formulated supplementary sports food which must be consumed in conjunction with a nutritious diet and is not suitable for use as a sole source of nutrition. It must be used in conjunction with an appropriate physical training or exercise program. Not suitable for children under 15 years of age or pregnant women.
Should only be used under medical or dietetic supervision.
For more information visit the Sustagen® website
---
Discover the range of SUSTAGEN® products
SUSTAGEN® Hospital Formula is a formulated meal replacement which can only be of assistance where dietary intake is inadequate and must not be used as a total diet replacement. SUSTAGEN® Optimum and SUSTAGEN® Instant Pudding is a food for special medical purposes specially formulated for medical conditions where nutritional needs cannot be met by diet modification alone. SUSTAGEN® Diabetic is a food for special medical purposes specifically formulated for people with diabetes who cannot meet their nutritional needs through diet modification alone. Must be used under medical supervision.