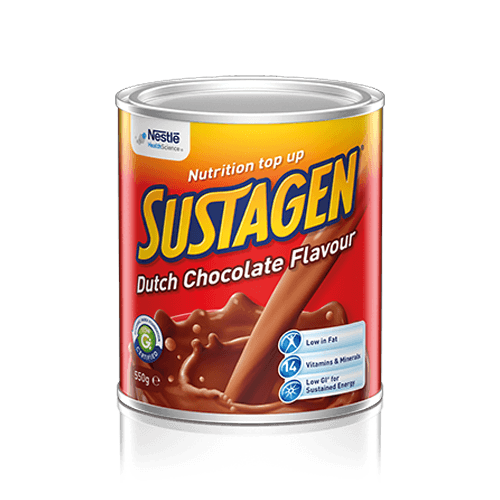 EVERYDAY NUTRITION TOP UP
When made up with reduced fat milk, it's a great tasting oral supplement that provides protein and essential vitamins and minerals. 
Nutrition top up
Gluten free
Low GI
14 vitamins and minerals
SUSTAGEN® is formulated supplementary foods which can be of assistance where dietary intakes of nutrients and energy may not be adequate.
For more information visit the SUSTAGEN® website
---
Discover the range of SUSTAGEN® products
SUSTAGEN® Hospital Formula is a formulated meal replacement which can only be of assistance where dietary intake is inadequate and must not be used as a total diet replacement. SUSTAGEN® Optimum and SUSTAGEN® Instant Pudding is a food for special medical purposes specially formulated for medical conditions where nutritional needs cannot be met by diet modification alone. SUSTAGEN® Diabetic is a food for special medical purposes specifically formulated for people with diabetes who cannot meet their nutritional needs through diet modification alone. Must be used under medical supervision.