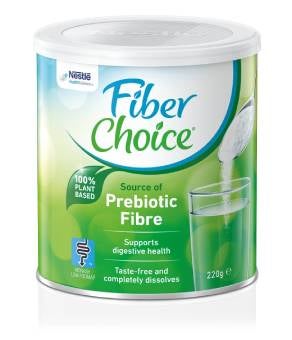 FIBER CHOICE is a soluble plant-based fibre made from partially hydrolysed guar gum (PHGG). PHGG supports individuals with gut transit disorders such as constipation and diarrhoea.1,2

FIBER CHOICE contains 100% partially hydrolysed guar gum, (PHGG) which is a soluble, prebiotic fibre to support gut function and helps contribute to regular bowel movements. PHGG can help to soften stools, assist with bowel regularity, and support a healthy intestinal flora.1

FIBER CHOICE:
Contains 100% PHGG
Is a natural, soluble prebiotic fibre that helps promote the growth of beneficial bacteria1,2
Is low FODMAP*†, gluten free, suitable for lactose intolerance and plant-based diets
PHGG does not change the taste, smell and texture and mixes easily with food or drinks3
No added sugars, colours, sweeteners, flavours or preservatives
FIBER CHOICE is available in a 220g can.
Visit www.ncare.net.au to view full product detail.
---
Who is FIBER CHOICE for?
FIBER CHOICE is an effective and natural support for the dietary management of people with intestinal transit disturbances such as constipation and diarrhoea.1,2
A natural, plant-based prebiotic fibre such as FIBER CHOICE is recommended for people whose daily fibre needs cannot be met through dietary changes alone.

How to use FIBRE CHOICE:

Simple to use and easy to incorporate into your daily routine. There is no flavour, texture or smell.

It can be stirred into any non-carbonated liquids or thicker preparations warm or cold and does not change the final dish. Quick and easy!

Directions for use:
Mix one level tablespoon of FIBRE CHOICE in 200mL of liquid or 150g of food. Stir until powder is fully dissolved. It can be stirred into any non-carbonated liquids (water, coffee, fruit juice) or thicker preparations (yoghurt, soup) warm or cold.

Do not consume powder alone. Mix with fluid or food.
1 level tablespoon contains 5g of powder = 4.3g of dietary fibre.


RECOMMENDED DAILY INTAKE:
It is recommended to use FIBER CHOICE by gradually adjusting the intake to the individual's needs as advised by a healthcare professional.

Start with 1 level tablespoon per day. Depending on individual response, it is advised to increase the daily intake gradually without exceeding the maximum recommended amount of 4 level tablespoons (20g) per day. Ensure fluid intake is increased as daily intake increases.

FIBER CHOICE can be used long-term and reinitiated whenever required. Always consult a healthcare professional.

USE UNDER MEDICAL SUPERVISION.

ONLY SUITABLE FROM 3 YEARS ONWARDS.


FIBER CHOICE is a food for special medical purposes for the dietary management of people with disturbed function of the colon, for nutrient absorption in diarrhoea and nutrient excretion in constipation. Use under medical supervision. Not suitable as a sole source of nutrition.

*FODMAPs (Fermentable Oligosaccharides, Disaccharides, Monosaccharides, and Polyols) are short-chain carbohydrates that can be poorly absorbed in the small intestine resulting in abdominal pain, bloating, gas, constipation and/or diarrhoea.

†Monash University Low FODMAP CERTIFIED food. One serve of this product is low in FODMAP.


References:
1. Rao TP, Quartarone G. Nutrition 2019;59:158-169.
2. Slavin J. Nutrition 2003;19:549-4-552.
3. Yoon SJ et al. J Clin Biochem Nutr 2008; 42(1):1-7.