Fresh Banana
---
Portion: 1/2 cup per serving
---
HOW TO PREPARE
Puree bananas with orange juice until smooth.


Add THICKENUP® ClearTM. Process briefly until mixed, scraping sides of bowl.


Cover and chill quickly (within 4 hours) to 5°C or below before serving.


Hold for service at internal temperature of 5°C or below.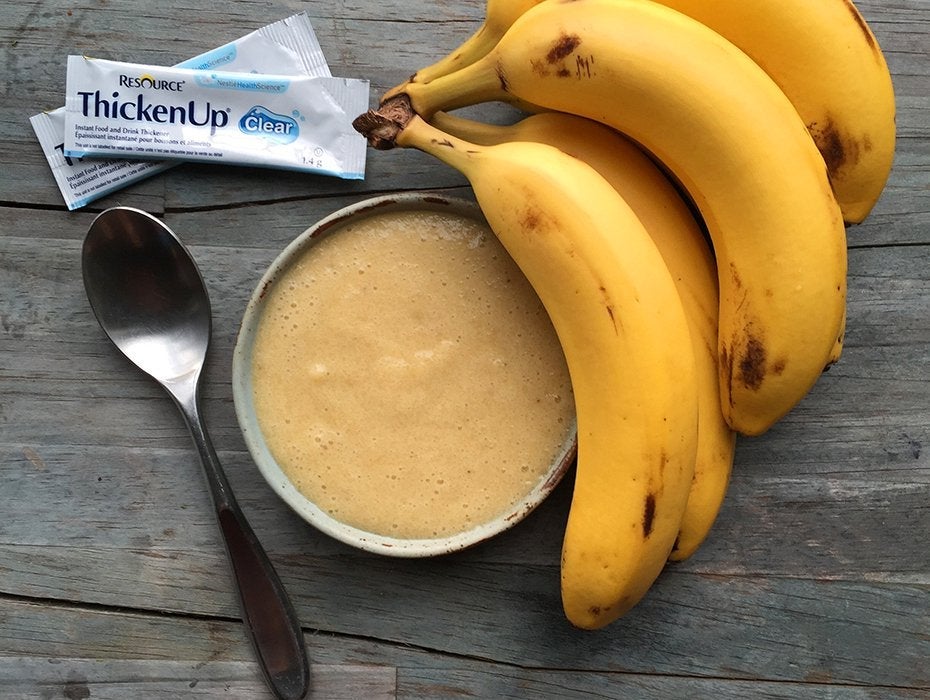 Ingredients
Number of servings
5
10
20
30
Fresh Banana,
Peeled and sliced
5 medium
10 medium
20 medium
30 medium
Orange Juice
1/4 cup (60 mL)
1/2 cup (125 mL)
1 cup (250 mL)
1 1/2 cups (375 mL)
THICKENUP® ClearTM
3 Tbsp + 1 tsp (50 mL)
1/3 cup + 1 tbsp (90 L)
3/4 cup + 1 tbsp (190 mL)
1 1/4 cup (310 mL)
Please note
: The exact amount of THICKENUP
®
Clear required in the recipe varies greatly therefore add the powder slowly, 1 scoop at a time until the correct consistency is achieved. Scoop amounts may vary depending on the water content/moisture of the food. Seasonal variation in fruits and vegetables may occur. Check your recipe consistency by using the IDDSI testing methods at
www.iddsi.org
. People who required texture modified food may need support when eating to reduce chocking risk. Check support is available if needed.
THICKENUP
®
Clear is a food for special medical purposes for the dietary management of people with swallowing difficulties. Must be used under medical supervision.